(Support our initiative to enable farmers to provide safe and nutritious farm produce to distressed communities)
The people who build our homes, lay the roads, run the factories, stitch our clothes, fix our vehicles, keep home and surroundings clean, feed the nation, are largely in the unorganised sector and the most impacted by Covid-19 pandemic. Our nation has to be grateful to the frontline citizens of the country – Doctors, nurses, healthcare staff, law and order officials- working tirelessly to safeguard us.
The part of the society that can still manage its finance have a responsibility towards them and it is not an act of charity for we have gained far too much on their strong shoulders.
Greenpeace supporters, donors, staff and volunteers together make 'Us'. This family understands that the consequences of the CORONA-19 pandemic can be huge and should be dealt with compassion, courage and cooperation. Our teams are working with Farmers around Delhi, Jamui-Bihar, Bangalore, Hyderabad and Chennai– sustainable and healthy farm produce is delivered to the daily wage earners and the migrant community.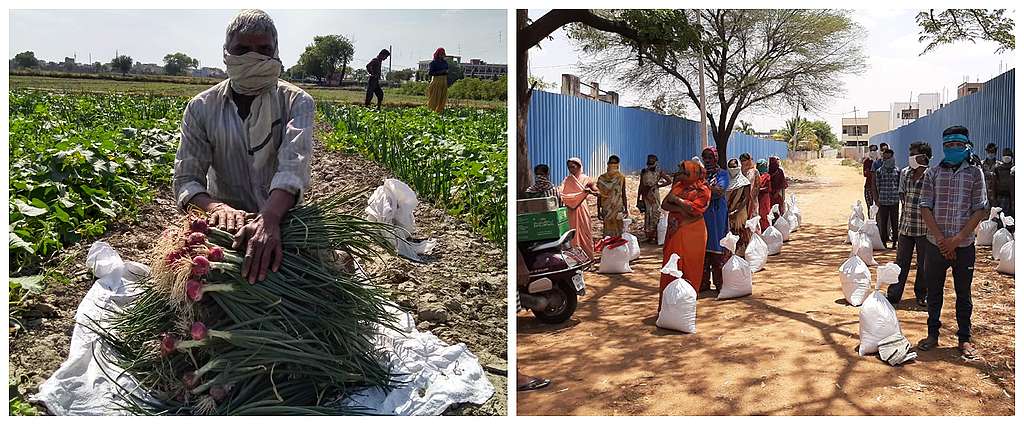 In Chennai, we have partnered with Organic Farmers Market, Sumanasa Foundation & Save Chennai Beaches Campaign, Aram Porul Foundation, Makkal Padhai, No Food Waste and TrustChildren; Sahaja Samarudha, Munnade Social Organisation, Cividep India in Bangalore; Kedia, Tari Dabil villages in Jamiu, Bihar; Goonj, Samadhan Abhiyan and Urban Kyari in Delhi and Sahaj Aharam and Goonj in Hyderabad. The ration kits prepared by our partners feed migrant and daily wage-workers. In Chennai and Delhi fresh vegetables and food grains are supplied to community kitchens. We also take this opportunity to say that safe and nutritious food is for all. Besides, we have handed over 20 Protective Suits to BBMP (The Bruhat Bengaluru Mahanagara Palike), Deputy Health Office, Bengaluru.
Your contribution will enable farmers to provide safe and healthy farm produce to feed the distressed communities. You can contribute to us HERE to support saving many lives and end miseries.
In order to build a resilient community, Greenpeace India Society (GPIS) and Greenpeace Environment Trust (GPET) with the consent of its ever supportive 36,572 donors, have contributed an amount of Rs.46,84,158/- to the Prime Minister's National Relief Fund (PMNRF).
As individuals and as an organisation our first and foremost challenge is to contain the spread of the virus and stand in solidarity with compassion to the vulnerable communities. When this pandemic ends our future potential will be defined by the choices we make, we need to crystallize those possibilities with demands that bridge between the current reality and a better future. Our responsibilities will be to connect with individuals and societal experiences of the pandemic to a new landscape of radical and progressive possibilities. We believe Covid-19 is a disruption that is leading our societies- now more connected than ever to relook at the present and think about the future differently and reimagine a sustainable and just future for India.