Communities are uniting and responding to Covid-19 crisis
It was barely 7 in the morning and I'd just finished watering my rooftop kitchen garden when I heard a feeble cry call out "Sabji le lo…hari taji sabji" (vegetables, fresh green vegetables). I peeped out of my balcony and asked, "do you have beans?", fortunately, he did. I took my jhola (vegetable bag), checked my wallet and in a minute, I was downstairs in front of the thela (handcart).
I checked the prices. French beans at Rs. 30, capsicum at Rs. 50 and raw bananas for Rs. 40 a dozen. My initial feeling was 'Oh wow…that's so cheap!' Last week, I had bought the same vegetables for double the price. Then I felt a shiver down my spine! I asked him what the rates at the wholesale market were, to get a sense of the prices at the farmer's end. He replied, "Sabji bikiye nahin raha hai sir. Jab bhat-daal ka jugade nahin ban raha hai toh log sabji kahan se khareedega? Agar hum kilo me 7-8 rupiya bhi nahin kamaenge to bhukhe hi na marenge!" (Vegetable sales are very low. When people are unable to afford rice and pulses, who will buy vegetables? With such little sales, I will starve if I don't get a margin of 7-8 rupees per kg).
This is a tough time for everyone. The COVID-19 outbreak has shattered the world. Over 3.82 million people across the globe are fighting for life and more than 265 thousand people dead, as of 11:40AM, May 7. A majority of the world is under an indefinite lockdown and has been asked to stay at home to prevent community transmission of the disease. For those who are well-off, there's one enemy, an unknown virus! Unfortunately, for the majority, there are many other enemies as well, like hunger, poverty and an uncertain future to name a few.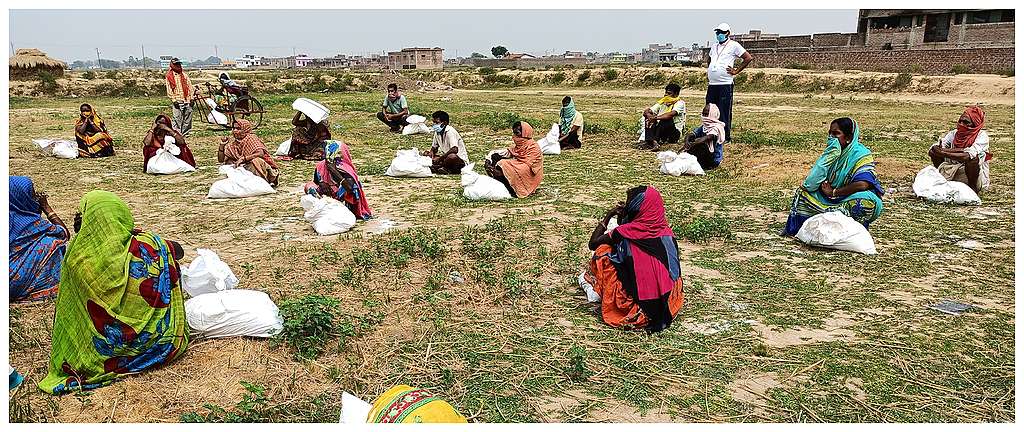 Countless migrant labourers were suddenly left without shelter as employers and/or landowners asked them to leave their premises out of fear. There was an unprecedented flow of reverse migration. Lakhs of people took to the roads in an effort to walk back to the places they had once abandoned in search of livelihoods and a better quality of life. We are facing one of the worst humanitarian crises in post-partition India.

It's heartwarming to see communities unite and respond to this crisis. Hundreds and thousands of individuals spontaneously organised themselves to cater to the destitute workers, which are considered as the engines of our throbbing economy. Civil society organisations also sprung into action and in no time they were distributing ration kits, organising community kitchens, providing assistance to elderly and other needy families. Several rural communities also voluntarily began making and distributing face masks and other required goods. Individual, organisational and corporate donations to government relief funds and civil society groups have also been pouring in.

Tragically, one area was somehow missed out on. Due to the lock-down the small and marginal farmers are finding it difficult to get their produce to market and hence lack of funds. The halted food product export is also hurting the already feeble food system as well as the farmers. Even before the lockdown, in the initial stages of the COVID-19 outbreak, there was a 20% drop in the prices of agricultural commodities.

Following rabi-crop harvests, farmers are in need of money to pay back loans and run their families. Thankfully, the government has announced that farmers who have taken institutional loans can repay them after 3 months. But the non-institutional borrower farmers will have to arrange funds to avoid astronomical interest rates later. In the absence of markets, they are unable to negotiate respectable prices for their products and are forced to sell them at very low rates.

The economic losses to the farmers will not only get translated into a possible agrarian crisis but will also impact India's overall economy. The gloomy trail does not end here. This will have severe implications on food availability in the future too. If farmers are unable to repay their loans, they will not have money to invest in the next crop.

In response to the wider humanitarian disaster, philanthropies and all the other segments of the society are providing dry ration kits or cooked/semi-cooked food to people in need, and have a crucial role to play in revitalising the farm economy. Instead of purchasing food items from the stockists and retailers, they can buy produce from small and marginal farmers or their FPOs, collectives or cooperatives. This way, they will pay farmers fair prices and cater to destitute workers as well. This positive trail does not end here. It will also boost the agrarian and national economy, along with investing in food security.

The food-based industries and companies need to play a significant role here in easing this distress by buying directly from farmers and farmer groups. By doing this, they will ensure that they will have enough products to sell in the future. This will be their investment in sustainable business.

In a time where industrial production is bound to take a halt, an agile and resilient food production and supply system can keep the food security scenario bright. Therefore, governments have the responsibility to effectively and swiftly procure food products at a remunerative price from the farmers, especially the small and marginal farmers. They are also expected to channelise the food products to the consumers in an equally swift and effective manner to stabilize the prices at the consumer end.

This could be a way forward for a society and a nation to fight the pandemic while defeating equally dreaded enemies such as hunger and rural poverty.

(Ishteyaque Ahmad is a Greenpeace India Food & Agriculture Campaigner)