Greenpeace India in collaboration with other organisations created circles of solidarity to help communities in need.
Once in your life you need a doctor, a lawyer, a policeman and a preacher. But every day, three times a day, you need a FARMER. And, what do you do, when in times of corona pandemic, they are hit the most along with other vulnerable communities.
When the Covid-19 outbreak hit India and forced the government to impose a nationwide lockdown, the agricultural supply chain was badly affected. Restrictions on transportation led to delayed procurement and delivery, which impacted the freshness of the produce.
On one hand, we had farmers struggling with their produce and on the other hand we were subject to witness the helplessness of marginalised communities whose daily lives were put at stake. To meet these challenges, we were required to create circles of solidarity.
As the sustainable farmers, the ones Organic Farmers Market (OFM) works with, possess small landholdings. They struggle to diversify the crops in their farms. Their limited range leads to exploitation by traders and other middlemen, both in terms of price and weight. Thus such efforts to coordinate, collectivise and ensure fair prices need better channelisation.
To meet these challenges during an unprecedented crisis, Organic Farmers Market (OFM), that works with small and marginal sustainable farmers from Kodai, Ooty, Dindigul, Tindivanam, Madurantakam and Chengalpattu, ensured that the producers are connected to the consumers who need it most, namely the stranded migrant workers, homeless and distressed communities.
Collaboration with Greenpeace India provided a great boost to our work. Greenpeace helped support our farmers and ensured that safe and nutritious ration kits were provided to the distressed communities and organic vegetables were supplied to various groups organising community kitchens for the poor and marginalised.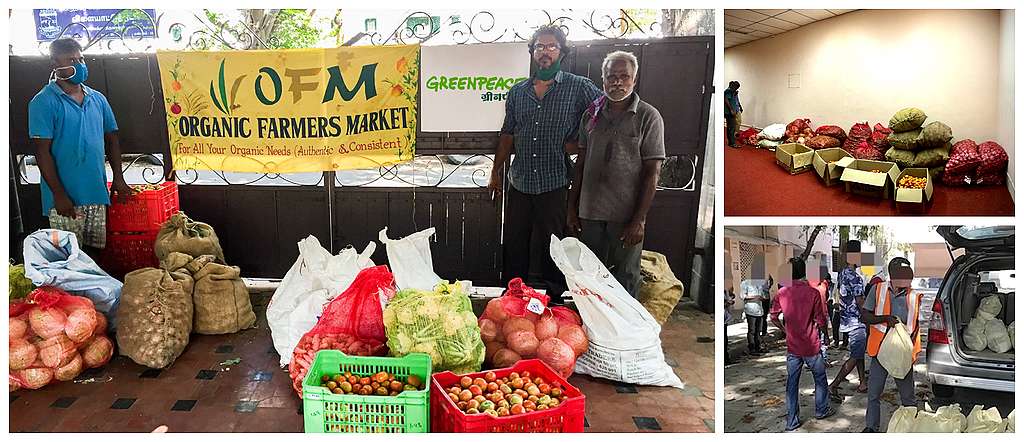 6000 kilograms of organic vegetables were procured from our small farmers (less than 2 acres of land) in Dindigul, Kodai and Tindivanam region.
This is how we created circles of solidarity. The distribution model was developed and worked on the theory of 'by the people, for the people'. This effort has socially and economically boosted farmers, who themselves constitute the distressed communities.
We are thankful to Greenpeace and its supporters who have contributed to minimising the misery of the marginalised communities. We are also thankful to our partner organisations such as Sumanasa Foundation and Save Chennai Beaches Campaign, Aram Porul Foundation, Makkal Padhai, No Food Waste and Trust Children who are all doing a great job and have come together to ensure this initiative is successful in helping the communities in need.
( Mr.Ananthoo is the Founder of Organic Farmers Market )