Unprecedented fires have been scorching huge swaths of eastern Russia in recent weeks, with Siberia's Yakutia region hit hardest. While Russia has been experiencing an increasing severity of wildfires due to blistering summer temperatures and a historic drought, this year, all records are being broken. More than 300 fires are still active across what is supposed to be one of the coldest parts of the world.
Siberia fires dwarfing all other combined fires
In recent days, experts have found that the Siberia forest blazes are bigger than all the other wildfires burning in the world combined. As of August 16, the area covered by fires since the beginning of the year amounted to 17.08 million hectares – an area nearly twice the size of Portugal – and continues to grow. This massive size is a first in the recorded history of satellite observation.
Catastrophic fires are still burning Yakutia, in the region of Irkutsk, in the southern Urals along with other regions of the country. 2021 could surpass Russia's worst fire year, 2012. According to scientists, Northern Siberia, like the Canadian Arctic, is warming three times faster than the rest of the world.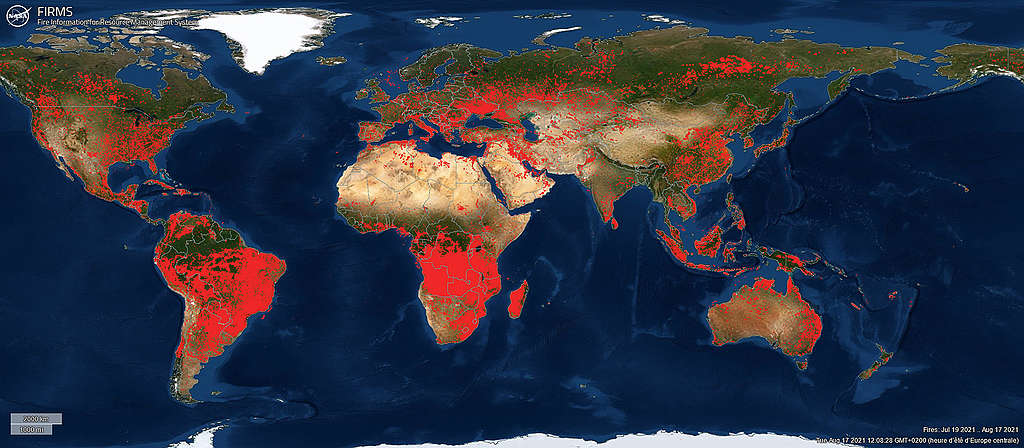 Siberian smoke roaming the Earth
Smoke from these massive wildfires in Russia's Siberia region reached the geographic North Pole for what could be the first time in recorded history, according to NASA. The fires were so extreme that plumes of smoke also have stretched to Mongolia, Canada, Nunavut and Greenland.
More evidence that there are no borders in a climate crisis.
Megafires polluting the air
Entire cities have been trapped in smoke. Roads and airports in Russia had to be closed and thousands of people evacuated. In the middle of July 2021, residents of Yakutsk, the capital of Sakha, were breathing in smoke from over 300 separate wildfires, as reported by the Siberian Times.
According to Harvard University researchers who studied more than 90 counties in the U.S West that were hit hard by wildfires in 2020, wildfire smoke and Covid-19 is a very dangerous combination. More and more evidence is suggesting that air pollution from cars, fossil fuels or fires damages the body's ability to resist respiratory viruses, potentially making people more vulnerable to the ongoing COVID-19 pandemic.
Firefighters in shock, all hands on deck
Thousands of firefighters, agricultural workers, soldiers and other emergency workers have been contributing to the firefighting efforts. In several cities, officials are desperate for more volunteers and more financial resources to fight the fires.
Yet according to Greenpeace Russia, this unprecedented disaster is a new reality for the country. They are calling for strong measures to be urgently taken to prevent the fires or at least reduce their scale and have sent a list of measures to the Russian government.
Sustainable forestry and forest fire protection is part of Russia's Green Deal – a plan for systemic change, developed by Greenpeace Russia and partners, for effective environmental and climate safeguards in the country. The proposal is gaining support among public and policy makers.
As the latest IPCC climate report details, a hotter future is already locked in. But decisive climate action by governments to rapidly cut climate wrecking emissions from polluting industries and to protect and restore nature will determine how hot it gets.
It's time to stop economic cutbacks on forest protection, listen to local communities living with our forests and support national forestry to protect humanity and our climate.