Asserting the fact that small-scale, decentralized renewable energy systems holds the key to development for rural India, Greenpeace today, demonstrated and installed a solar power pumping system at Kalyan Bigha (native village of Hon'ble Chief Minister Shri Nitish Kumar)in Bihar. It was one of those rare moments which gave insight into how renewable energy is empowering people across the country, especially rural areas. People can get reliable energy that does not put additional pressure on our environment.
In a state where 81% of the population is dependent on agriculture contributing to 42% of the state domestic product, it is important that the government takes such initiatives which will improve the productivity without compromising on environment as well as reducing reliance on expensive and polluting diesel. New technologies should be encouraged to make the state self-sustaining with regards to water and electricity. With no operational costs, the Solar PV Pump Set provides an alternative to irrigation pump sets which run on grid electricity and diesel and has huge operational potential in Bihar.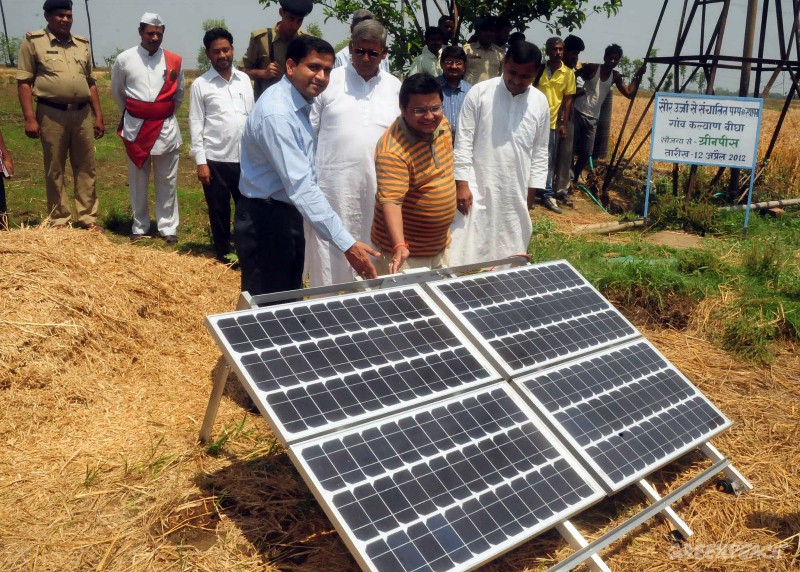 (Left to right) District Magistrate of Nalanda, Sanjay Agarwaal, Manish Kumar, Director BREDA and land-owned Awdhesh Kumar, at the Solar PV pump set demonstration in Kalyan Bigha, Bihar. Photograph: Greenpeace/

Paras Nath
The low cost PV pumping system offers a huge potential to increase the agricultural productivity and will reduce the dependency on erratic electricity supply and poor irrigation system. The Solar PV pumping system is light weight and can be manually installed in any open well or bore well. It delivers 1500-2000 liters of water per hour for 6-8 hours on a sunny day. For better water management and maximum output, it is recommended that drip irrigation method should be used. The model fits well with Bihar State Micro-Irrigation Project (BSMIP) objective to encourage drip and sprinkler irrigation systems.
It is quite apparent that a strong political will and an enabling framework with focus on low cost solar pump set are required for Bihar's inclusive growth. In the recently announced Agriculture Roadmap to ensure a truly pioneering "Rainbow Revolution" would remain unfulfilled without the focus on proper irrigation system. The state must work towards ensuring secure irrigation system to put Bihar on world map as a champion of Rainbow Revolution and that can be achieved only through renewable energy.
Story by- Madhulika Verma