As of December 7, more than 300 coal power plants across the country are still violating the emission standard norms that were given by the MoEFCC back in 2015. These norms were to come into effect by the 7th of December 2017. But despite being given two years to implement these norms, the Ministry of Power, the Central Electricity Authority, and the power industry, are attempting to push the dates further by 5-7 years until 2022-24 and also relaxing the water usage limits.
MoEFCC's new norms limited emissions of particulate matter (PM), sulphur dioxide, nitrogen oxides, mercury and reduced water usage by coal powered thermal power plants. These emissions are a key contributor to surging particulate matter levels in India, with the coal power sector being a key contributor to air pollution.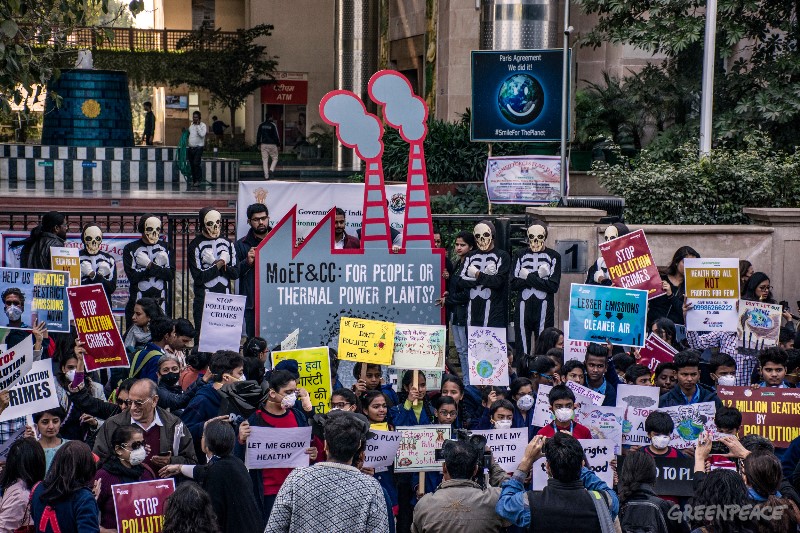 A group of civil society organisations, volunteers, activists, residents and many other groups representing people across India, gathered outside the Ministry of Environment, Forests & Climate Change on the emission deadline day (D-Day). They reminded the minister of the expiring deadline tonight, the alarming findings of increasing sulphur dioxide (SO2) emissions in India since 2012, and claiming their Right to Life & Clean Air.
According to CPCB, if the new standards are implemented, it will cut down approximately 40% of PM emissions and 48% of both nitrogen dioxide and sulphur dioxide as pollutant from power generation sector.
Following up on Greenpeace India's Out of Sight report released in 2016, that had identified air pollution hotspots in India visibly linked to thermal power plants clusters, An updated study identifies that emissions have increased by approximately 32% across the country in the last 5 years as revealed by satellite data. This in a country where people are already struggling for clean air and water security is almost criminal.
In June 2017, over 63 signatories from civil society organisations, medical professionals and concerned citizens wrote to the Ministry, urging adherence to the committed deadlines, and released an interim report on the "status of implementation" to dispel rumours about the norms not being met.
Emphasising the impact on public health due to emissions from sources like the coal-based power plants, the Indian Medical Association Chairman, Dr K K Agrawal said, "As a representative of the medical fraternity, I cannot emphasise enough the necessity of reducing emissions from thermal power plants. Smog is a complex mixture formed by various pollutants such as nitrogen oxides and dust particles, which interact with sunlight to form ground-level ozone, leading to the buildup of haze that hangs in industrial cities. This is a high-alert situation for not only Delhi but villages and towns near these plants as well, with children and older adults at high risk. Those with lung disorders and breathing issues are also highly vulnerable to the ill effects of this condition. Air pollution is responsible for premature deaths in Delhi and across the country. Its repercussions may not be immediately obvious but the long-term implications of air pollution are fatal."
India has surpassed China's SO2 emission and now has the dubious distinction of being the world's largest emitter of SO2, a major toxic pollutant that has a serious impact on human health. The ultimate win for air quality improvement can only be achieved as the result of coordinated, multi-pollutant emission reductions. With each passing day of non-compliance of these emission standards, the health of millions of Indians is increasingly at risk. The Ministry needs to come up immediately with strict, implementable deadlines and a concrete roadmap for each plant to ensure compliance. This should be made available on public platforms for close monitoring by various stakeholders.