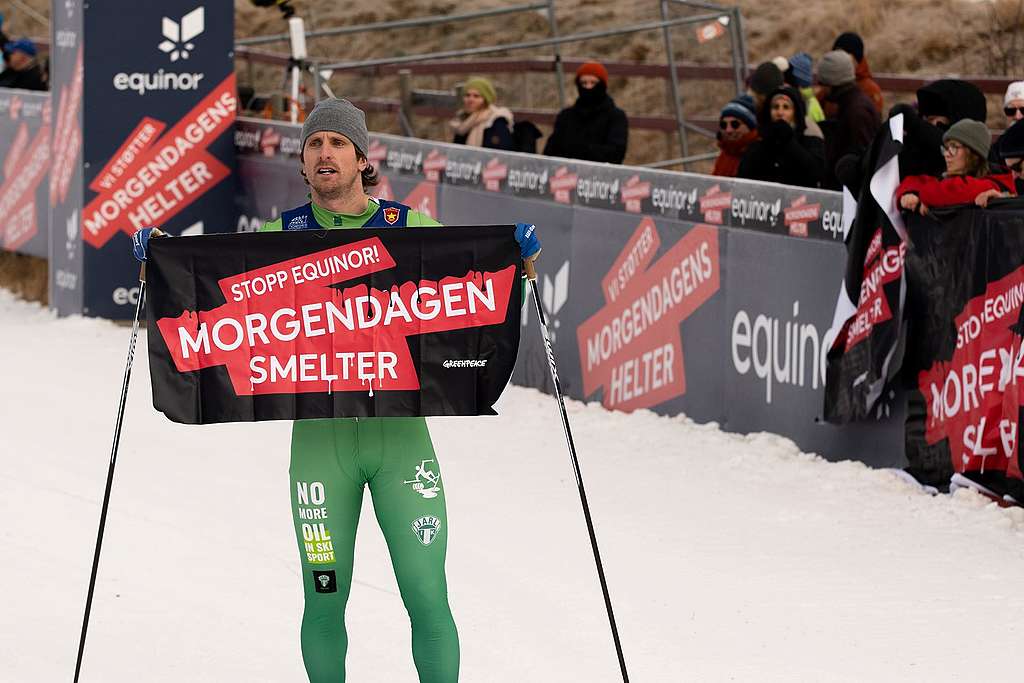 Beitostølen, Norway, 17 November 2022 – Swedish cross-country skier Emil Johansson Kringstad surprised the ski elite by lashing out against Norwegian state-owned fossil fuel company Equinor at today's ski season kick-off. In a stunt in cooperation with Greenpeace Nordic, the skier called out Equinor's sportswashing and accused the company of melting the snow needed to ski.
"The climate crisis is the most severe threat against ski sports today, and fossil energy is the main cause of the climate crisis. The winters are becoming ever shorter and we can see tomorrow melting right before our eyes. As a cross-country skier, there's no doubt I want to shed some light on how Equinor, Norway's greatest climate perpetrator, largely is to blame for this", said Johansson Kringstad.
Last year, Equinor emitted more than 250 million tons of CO2, five times Norway's total emissions, making the company Norway's biggest emitter. The climate effects of the emissions from fossil fuels are evident within competitive skiing. This year, several ski events have been cancelled or postponed due to a shorter winter season. [1]
Equinor using The Norwegian Ski Federation and events like the ski season kick-off to sportswash makes Greenpeace and skier Emil Johansson Kringstad react strongly. They point out that Equinor's massive emissions threaten the future of skiing and the irony of the company sponsoring a sport that will be impossible to perform as the effects of climate change become more severe.
The comeback was no sporting success for the 31-year-old, who finished the qualifying round placing 88th, but he participated for a completely different reason than making it to the finals. When Johansson Kringstad sprinted his way across the finish line, unfolding a banner targeting Equinor, Greenpeace Nordic activists had unfolded similar banners, covering up the Equinor logos in the finish area.
"We support all winter sports, which is why we are here today, taking a stand against Equinor. We chose to cover up Equinor's logos and advertisements in the finish area when Emil came in, to underline the absurdity of ski sports being sponsored by the greatest threat to its own existence. Equinor sponsoring ski sports is like a tobacco company sponsoring a cancer association", said Greenpeace activist Andreas Randøy, encouraging Equinor to stop both its sportswashing and all new oil exploration.
Emil Johansson Kringstad is known for being outspoken on the development of cross-country skiing. As the 2022 football world cup in Qatar kicks off amidst criticism over ethics in football, the skier is asking his own sport to confront the issue of sportswashing in skiing.
"There's no doubt that Equinor sponsoring skiing events is an act of sportswashing. Climate crisis profiteer Equinor is buying itself positive acclamation, basking in the glow of the spectacular sportsmanship displayed in the tracks. Perhaps it takes a Swede to point out the double standard in claiming to take the climate issue seriously while simultaneously allowing the state's oil company to use winter sports as a PR strategy", Johansson Kringstad said wryly.
Photos and videos are available here.
Background on Equinor's sponsorships:
Equinor asked the British government about sponsoring COP26, the UN climate summit held in Glasgow last year, and inquired about what it could get in return. After Equinor's request was mentioned in the media, the company apologised and stated that the request should never have been sent.
In addition to the sponsorship program «Heroes of Tomorrow», Equinor has academic cooperation agreements with a number of Norwegian universities. These agreements required positive publicity for Equinor, but after researchers spoke out and called it greenwashing, the requirement for positive publicity was dropped from the agreements.
Equinor, and other Norwegian oil companies, get a 78 per cent tax deduction on the expenses for sponsorship and advertising agreements, for example, the expenses for the «Heroes of Tomorrow» campaign. That is far more than all other companies, and in practice means that fossil advertising is favoured and rewarded.
Notes:
[1] According to the Norwegian Meteorological Institute, Norwegian cities with a high degree of winter sports recruitment, such as Oslo, Lillehammer and Trondheim, have lost respectively 22, 15 and 14 winter days, days with temperatures below zero degrees Celsius, in the last 30 years. This is due to climate change and not fluctuations in weather.
Contact:
Oda Grønbekk, Communications Officer, Greenpeace in Norway [email protected] / +47 92 42 12 15