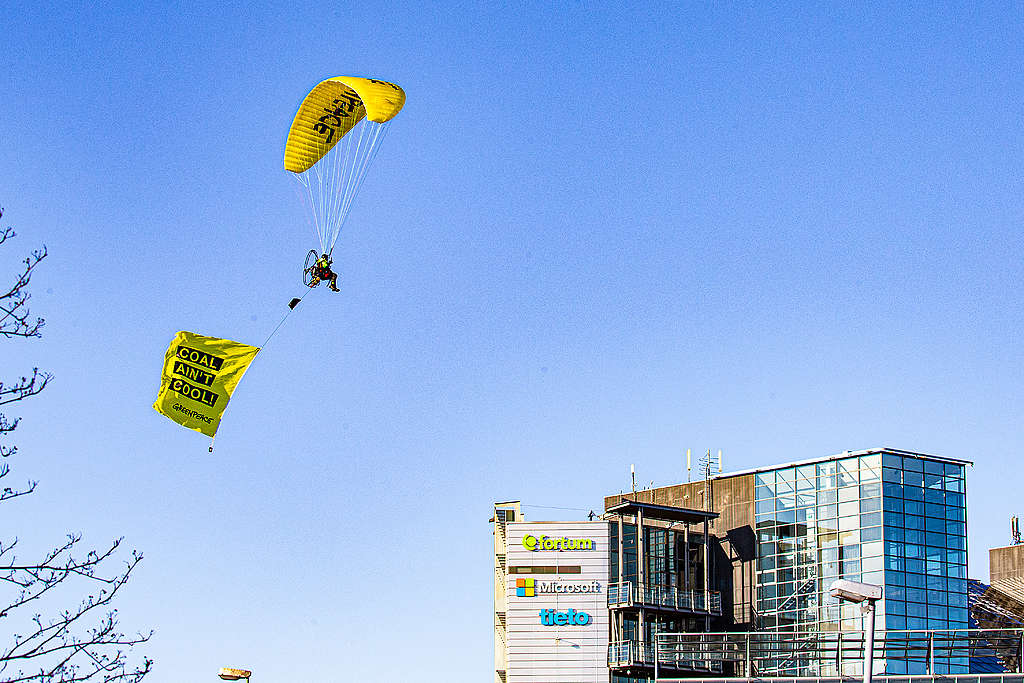 25 activists from Greenpeace Nordic and Extinction Rebellion Finland and a paraglider held a peaceful demonstration today at the Fortum headquarters in Espoo, Finland, when the company released its financial statements bulletin for 2019.
"Finland has one of the most ambitious climate targets in the world. At the same time the state-owned company Fortum is hampering the coal phase-out in other European countries. The situation is highly controversial and to be honest, outrageous. The Finnish state and minister Tuppurainen, responsible for ownership steering, should put an end to this", says Olli Tiainen, climate campaigner of Greenpeace in Helsinki.
Through its acquisitions of the German energy supplier Uniper, Fortum has become one of Europe's big polluters and also a major player in Europe's fossil fuel exit. At the moment Fortum/Uniper is hampering the coal phase-out in Europe by opening a new coal plant in Germany, called Datteln 4, and by threatening to sue the Netherlands over their new coal phase-out law.
The new coal plant Datteln 4, a large scale power plant of one gigawatt, is the next burning topic in the German climate movement. During the last two weeks hundreds of people have demonstrated against the power plant. The protesters in Espoo are showing the German sign Datteln 4 stoppen ("Stop Datteln 4").
Also, the general public in Finland is becoming more and more aware of Fortum's climate obscenity. In less than two weeks' time already almost 2000 people have signed a Greenpeace petition against Fortum, asking the energy giant to phase out coal by 2030.
"In the future, we are going to see the fossil fuel companies as we saw the tobacco companies not long ago – downplaying the truth in order to maximise their revenue. In its advertising Fortum says that 'we must take care of our Mother Earth', which is total nonsense as at the same time the company is opening a new coal power plant in Germany", says Outi Leskinen, an activist from Extinction Rebellion Finland.
Greenpeace and Extinction Rebellion demand the Finnish Government to act and to bear its responsibility: and thus make sure that Fortum will phase out coal by 2030 latest.
Photos from the demonstration here
For more information:

Olli Tiainen, Climate and Energy Campaigner
+58 40 164 8606
[email protected]

Outi Leskinen, Extinction Rebellion Finland
+35840 540 3673
[email protected]

Mari Vaara, Communications Officer
+35840 751 7957
[email protected]
For more information about the German context:

Lisa Göldner, Greenpeace Germany Climate Expert
+49 151 11633674
[email protected]

Photo: Matti Snellman / Greenpeace