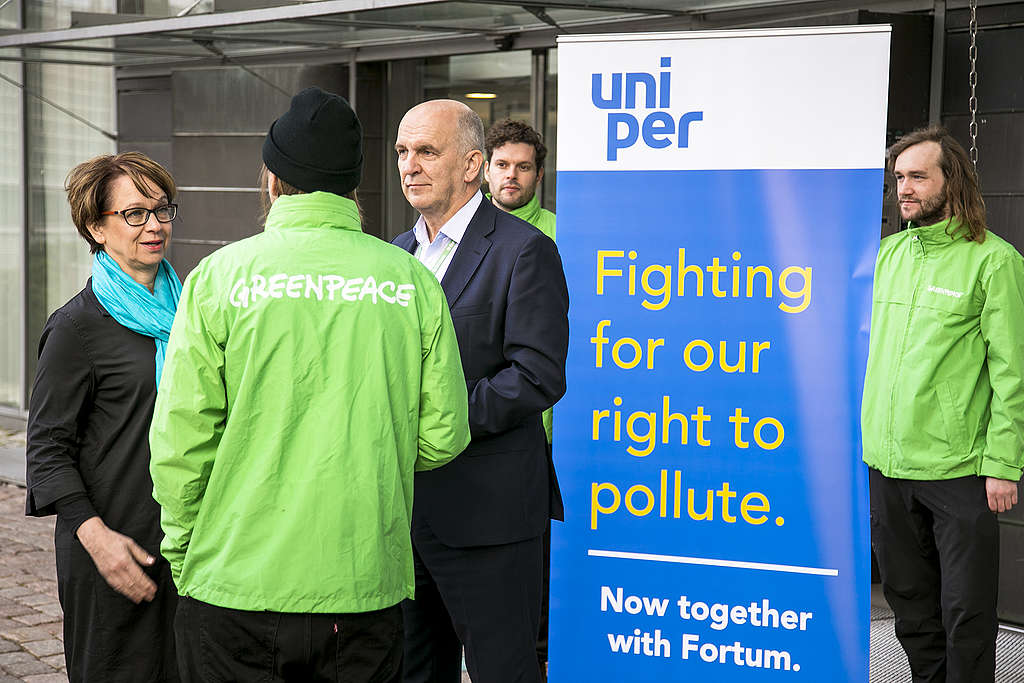 "Pekka, walk the talk!", demanded Greenpeace activists today at the Fortum headquarters in Espoo, Finland, calling on the Fortum CEO Pekka Lundmark to denounce the attempts of its associated company Uniper to hamper the coal phase out in the Netherlands.
"Pekka Lundmark has talked a good game on climate, assuring his commitment to the Paris Agreement and its 1.5°C warming limit [1]. Now it is the time to act accordingly and stop hiding behind excuses," says Olli Tiainen, climate campaigner of Greenpeace in Helsinki.
"Lundmark must make it clear that Fortum disapproves the threats of its associated company Uniper to sue the Dutch government over their upcoming coal phase law. What we have heard so far is the opposite – Fortum defending Uniper, placing the rights of polluters before the rights of people and workers. This is unacceptable, especially from a state-owned company," says Tiainen.

Through its acquisitions of Uniper, one of Europe's biggest utility polluters, Fortum has become a major player in Europe's fossil fuel exit. The company now owns just under 50 percent of Uniper, which already makes Fortum's total carbon footprint bigger than that of the whole of Finland's [2]. Once the share transaction announced early October is finalised, Fortum's shareholding in Uniper will increase to over 70 percent – as will Fortum's responsibility over Uniper's emissions.
"Fortum must align its actions and operations in line with the Paris Agreement 1.5°C limit. That means, among other things, closing all its coal plants in Europe by 2030. Selling those plans or even opening a new coal plant, the disputed Datteln 4 in Germany, would nullify Fortum's claims of leading the clean energy transformation in Europe," says Tiainen.
Greenpeace was not the only one questioning Fortum's green rhetoric at the release of its January–September Interim Report today. Questions were raised about Fortum's reputational risks, strategy and plans related to Uniper's coal assets in the Netherlands and Germany and the company's commitment to action in line with the Paris Agreement.
"The tide has turned very fast against coal in Europe and next in line is gas. The victory the climate movement achieved earlier this month in Sweden, when the government decided to deny the EU backed Gothenburg gas terminal its final permit on climate grounds, is a sign of things to come. A warning for the likes of Fortum who are now betting heavily on gas," says Tiainen.
Photos from the demonstration here
For more information:
Olli Tiainen, Climate and Energy Campaigner
+35840 164 8606
[email protected]
Kaisa Kosonen, Climate and Energy Campaigner
+35850 368 8488
[email protected]
Mari Vaara, Communications Officer
+35841 460 9873
[email protected]
Notes:
[1] "Now it's time to take action – climate change won't wait". Pekka Lundmark's blog. 26.11. 2018.
[2] In 2018 Fortum reported 26.4 Mt emissions (Fortum Sustainability Report 2018, page 26), on top of which Uniper, of which Fortum owns 49.9 %, reported 70.1 Mt emissions (Uniper Sustainability Report 2018, page 11-12 for Scope 1-3 emissions). Hence, Fortum is in total responsible for 26.4 Mt + 35.05 Mt = 61.5 Mt. Finland's national total emissions in 2018 were 57 Mt (Tilastokeskus: Suomen kasvihuonekaasupäästöt 2018).