Activists protest Procter and Gamble's link to deforestation
by Cassady Craighill
March 4, 2014
Cincinnati, March 4th 2014 – Greenpeace activists protested Procter & Gambles link to tropical deforestation at the company's global headquarters today, hanging from a zipline between the buildings two iconic towers.
Everyone is looking tired but happy! It's great to see our #fearless4forests activists out of jail #ProtectParadise pic.twitter.com/KMpIxDttqw

Greenpeace USA (@greenpeaceusa) March 5, 2014
10:10 AM EST Granted bond
Update: All 9 activists have been granted bond, we're hoping they'll be released in the next few hours #fearless4forests Greenpeace USA (@greenpeaceusa) March 5, 2014
9:00 EST News Coverage
3:10 EST People respond
Protestors tweet atop @ProcterGamble building while hanging banners. MT @greenpeaceusa: WOW! It's a long way down. pic.twitter.com/i1i47nCDBF Local 12/WKRC-TV (@Local12) March 4, 2014
@greenpeaceusa @Greenpeace @ProcterGamble *claps* Thanks for your bold action to draw attention to this shameful destruction. Total heroes. Ian Cracknell (@mistercracknell) March 4, 2014
@WCPO pic.twitter.com/tZB7OE2h48 D. Juggs (@bleaseandthanks) March 4, 2014
2:45: Coming down
The 9 Greenpeace activists at @ProcterGamble HQ are coming down now, we'll keep you posted on what happens #fearless4forests Greenpeace USA (@greenpeaceusa) March 4, 2014
2:30: View from the top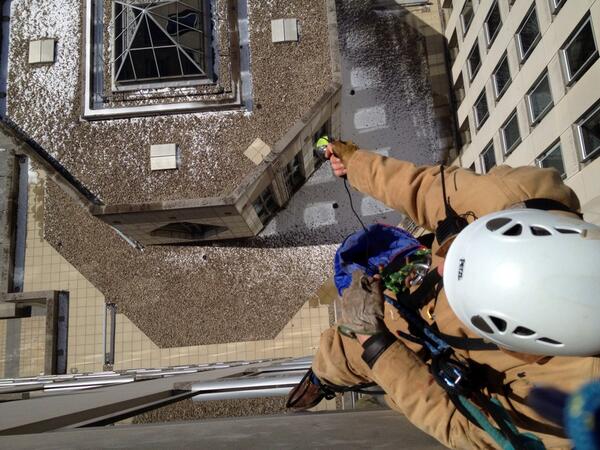 2:20 EST: Things looking up
Who saw the #Greenpeace protest unfold in downtown #Cincy today? Tweet us: We'd like hear what you saw! ICYMI> http://t.co/YDmX8GKptILOCAL COVERAGE:
2:00 EST Local buzz
Cincy going to make national news today! MT @jwilliamscincy: Follow @ARossmann02 for great photos of @greenpeaceusa protesters "hanging out" Cindi Andrews (@cindiincincy) March 4, 2014
1:45 EST Down to the wire
Just a tiger hanging on a zipline in #Cincinnati, you know #nbd just #fearless4forests @ProcterGamble pic.twitter.com/sFjiWsDFaq Greenpeace USA (@greenpeaceusa) March 4, 2014
1:30 EST: LOCAL NEWS COVERAGE
ADD YOUR VOICE TO FOREST PROTECTION
Hey #cincy! Is that a tiger on a zipline? #fearless4forests @ProcterGamble pic.twitter.com/vEdekhPCMz Greenpeace USA (@greenpeaceusa) March 4, 2014
1:05 EST Wiping out forest habitat
.@HeadShouldersUK wipes out dandruff & rainforest? Didn't think of that in the shower this morning #fearless4forests pic.twitter.com/uoBLHwjcvY Greenpeace USA (@greenpeaceusa) March 4, 2014
1:03 EST
1:00 EST: Banner deployed
12:30 EST: Activists on zipline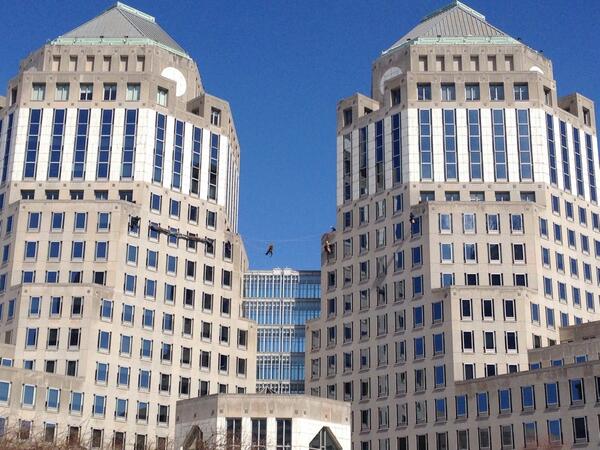 The nine activists, one of whom dressed in a tiger costume while hanging from the zipline, also unfurled two 50 ft. banners from the building with the message Head & Shoulders, Stop Putting Tiger Survival on the Line and Head & Shoulders, Wipes out Dandruff & Rainforests.
P&G is buying palm oil linked to rainforest destruction, to make everyday products like Head & Shoulders and Oil of Olay, said Joao Talocchi, Greenpeace Palm Oil Campaigner. Rainforest destruction is endangering species like the Sumatran tiger and orangutan. We should be able to wash away dandruff without wiping out tigers.
Indonesia's forests are disappearing at a rate of more than nine Olympic swimming pools each minute, with palm oil being the biggest driver of that deforestation. Forest destruction in the region is pushing the Sumatran tiger and orangutan to extinction. To highlight this, Greenpeace also launched a video today, spoofing P&Gs Thank you, Mom commercials.
P&G prides itself on being innovative. Yet companies like LOreal, Nestle and Unilever have already made strong commitments to prevent dirty palm oil getting into their products, leaving P&G trailing behind, said Talocchi.
Greenpeace International conducted a year-long investigation, including field trips in Indonesia, which exposed links between controversial palm oil plantations and the P&G supply chain. As recently as January 2014, tropical rainforest in endangered orangutan habitat, was actively being cleared by a P&G supplier, Kuala Lumpur Kepong Berhad (KLK). Both P&G and KLK are members of the Roundtable for Sustainable Palm Oil (RSPO), which has principles prohibiting this practice. To prevent this and further deforestation scandals, Greenpeace urges P&G to adopt a robust no-deforestation policy for all its palm oil purchases.