Klimasøksmål
Bruken av loven som verktøy i fravær av klimahandling fra både stater og selskaper, har i det siste blitt utbredt praksis verden over. Her i Norge har vi sammen med Natur og Ungdom tatt den norske staten til Den europeiske menneskerettsdomstolen i Strasbourg.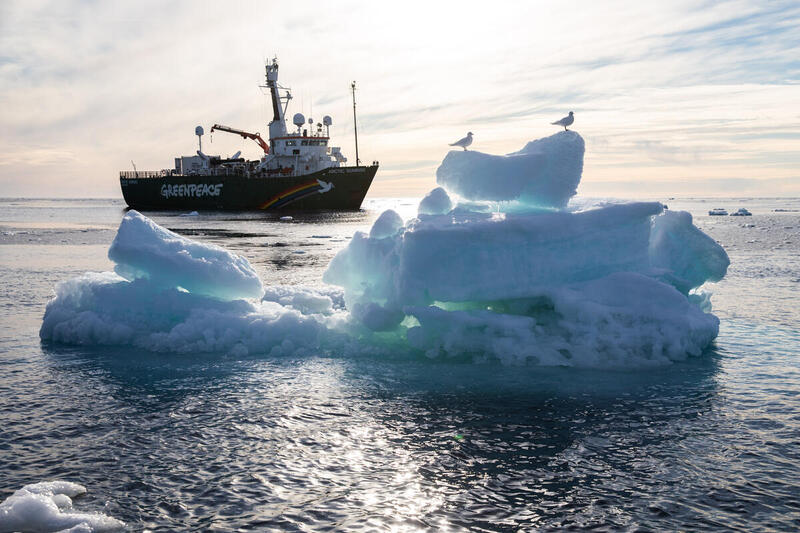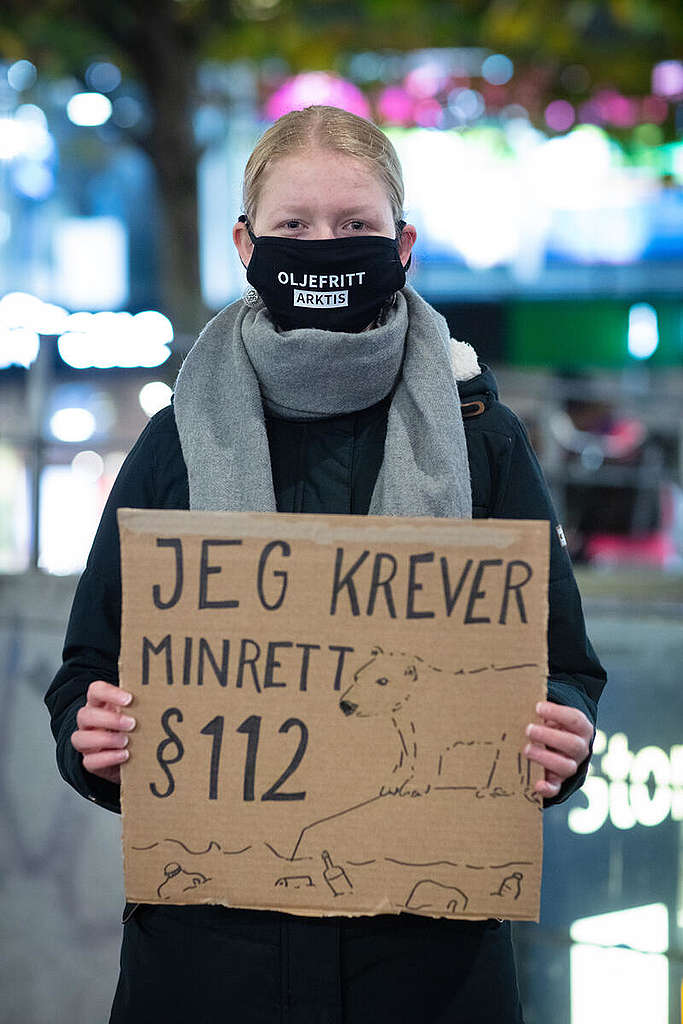 Derfor går vi rettens vei
I 2016 delte den norske regjeringen ut ti nye oljeutvinningstillatelser i sårbare naturområder i Arktis gjennom 23. konsesjonsrunde. Lengere nord enn noensinne før. Grunnlovens § 112 gir enhver rett til et levelig miljø for nåværende og kommende generasjoner, dette innebærer også et levelig klima. Klimaforskningen er klar: vi har funnet mer olje og gass enn verden har råd til å forbrenne om vi skal unngå de verste konsekvensene av klimakrisen.
Nye oljefelt i sårbare Arktis er ikke forenlig med hverken klimamål eller menneskerettigheter. Sammen med Natur og Ungdom bestemte vi oss derfor for å ta i bruk rettsmidler for å kreve vår og fremtidige generasjoners rett til et levelig miljø.
Etter tre runder i det norske rettssystemet, er klagen nå under behandling hos Den europeiske menneskerettighetsdomstolen (EMD) i Strasbourg. Sammen med våre medsøkere, Natur og Ungdom og seks unge klimaaktivister, mener vi at den norske statens oljepolitikk er i strid med våre menneskerettigheter under Den europeiske menneskerettighetskonvensjonen (EMK).
Hvordan vi bruker klimasøksmål
Vi mener at oljeboring i Arktis strider med Grunnlovens § 112 som garanterer enhver person, fra både nåværende og fremtidige generasjoner retten til et levelig miljø. I 2016 tok derfor vi, sammen med Natur og Ungdom, staten til retten. Etter tre runder, sto ikke det norske rettssystemet på lag med klima og miljø, og vi har derfor tatt klagen vår videre til Den europeiske menneskerettighetsdomstolen i Strasbourg (EMD).
Her klager vi på bakgrunn av Menneskerettighetskonvensjonens artikkel 2 som sikrer retten til liv og artikkel 8 som sikrer retten til privatliv. EMD har tidligere besluttet at retten til liv og privat liv også kan omfatte retten til å ikke bli utsatt for miljøskade, men dette er første gangen en klage om oljeutvinning blir behandlet av domstolen i Strasbourg.
Vår sak er nå under behandling, men har blitt utsatt i påvente av tre andre klimasaker som skal behandles først, da disse blir utslagsgivende for vår sak. De tre andre klimasakene kommer fra Sveits, Portugal og Frankrike.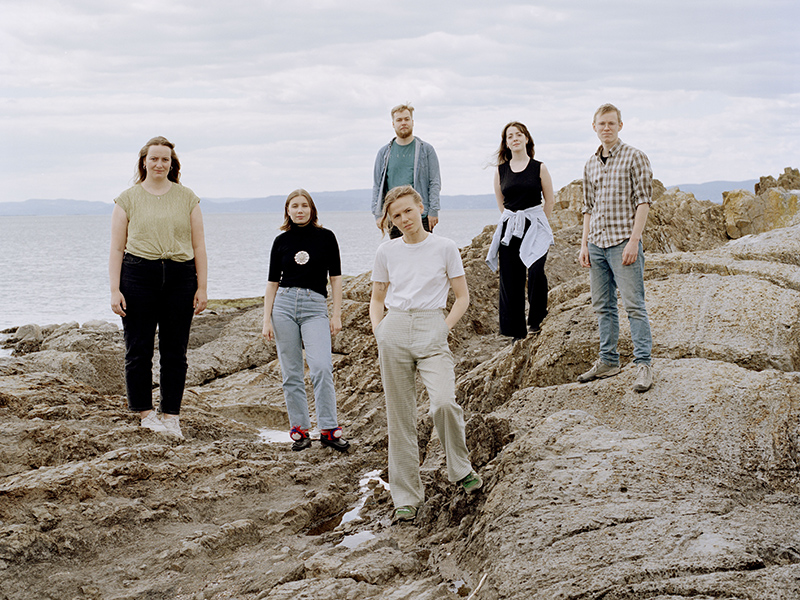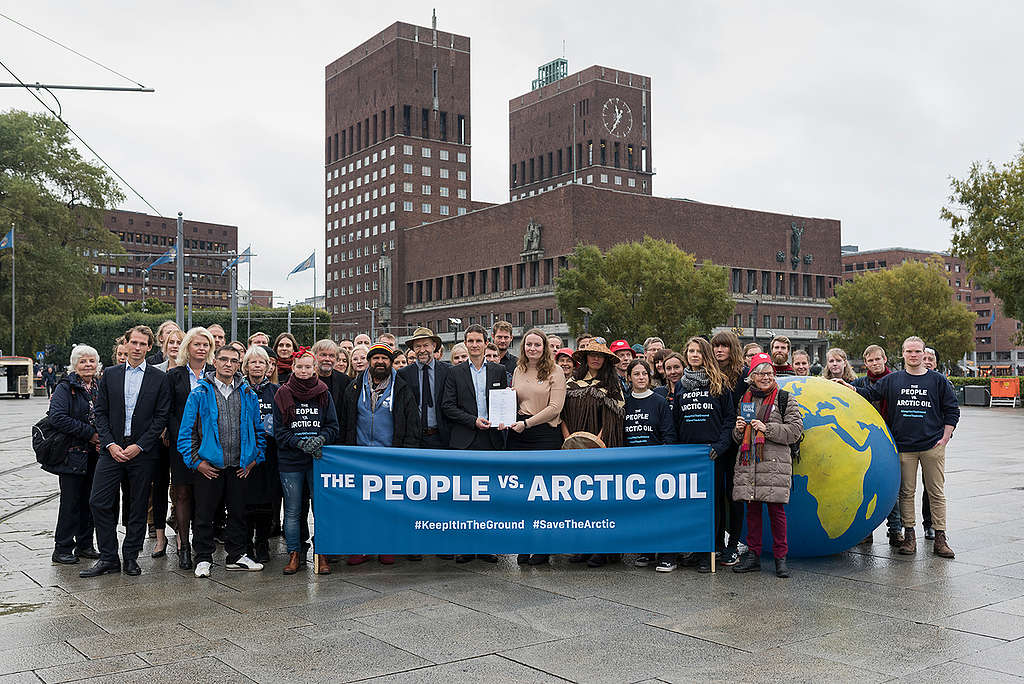 The climate lawsuit in English
Six young climate activists, along with Greenpeace and Young Friends of the Earth Norway, have filed a historic application bringing the issue of Arctic oil drilling to the European Court of Human Rights.
You can learn more about the domestic court case here.