Nynäshamn, Sweden, September 8 2022 – Activists from Greenpeace Nordic have stopped the ship Coral Energy from unloading its cargo of Russian fossil gas at an LNG terminal in Nynäshamn, south of Stockholm, Sweden. Climbers have occupied the cranes that unload the gas from the ship while Greenpeace sailing vessel SY Witness and activists in kayaks are in the water to prevent the ship from docking. Greenpeace Nordic demands that the Swedish government declare an immediate stop to the import of Russian fossil gas.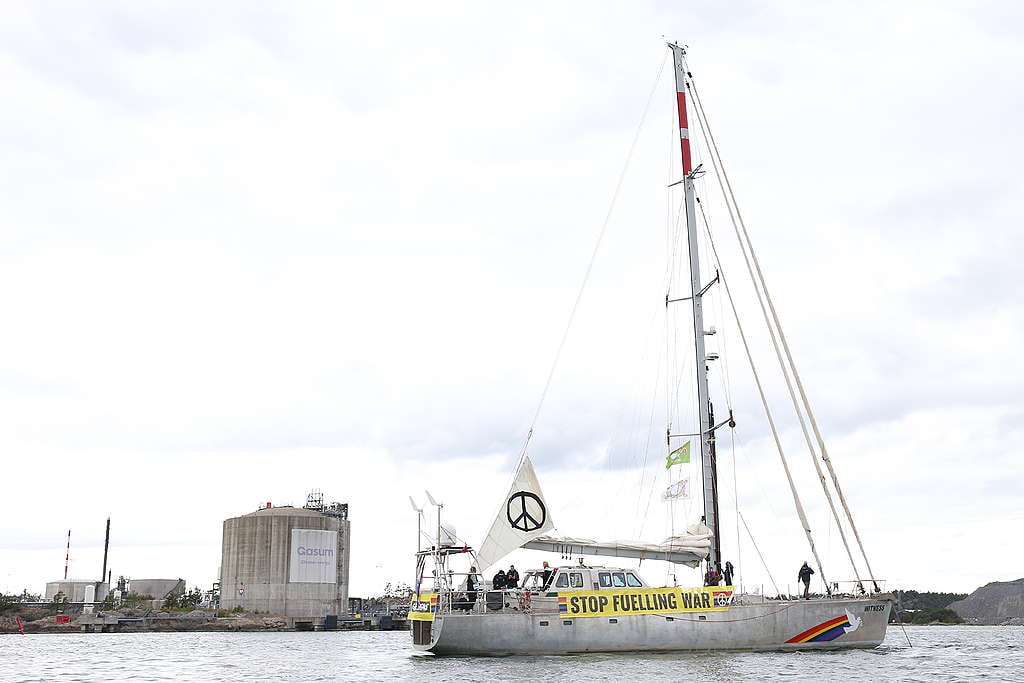 "The fact that Russian fossil gas is still allowed to flow into Sweden, more than six months after Putin began his invasion of Ukraine, is unacceptable. The Parliament has given the Swedish government a clear mandate to stop all imports of Russian energy to Sweden and it is Prime minister Magdalena Andersson's obligation to act on this", says Karolina Carlsson, campaign leader at Greenpeace Nordic.
Since the war began, Sweden has received around 100.000 cubic meters of liquefied fossil gas (LNG) from Vysotsk in Russia. Despite the fact that the government is fully aware of this, and has a clear mandate from the Swedish people and an announcement from the Parliament to stop importing Russian energy, Sweden continues its imports, and by this to finance the Russian military. Greenpeace estimates the value of the Russian gas that has been imported to Sweden during the first six months of the war to approximately SEK 1.7 billion.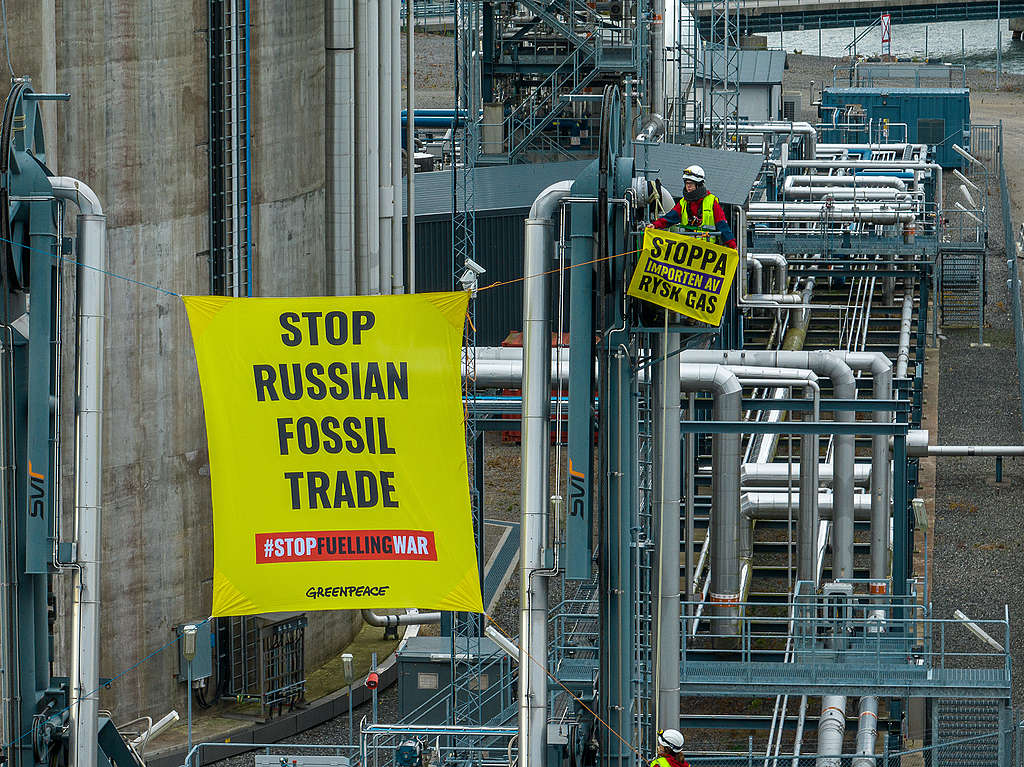 Finnish state-owned Gasum has regularly imported gas from Russian Gazprom and the oligarch-owned Novatek in Russian Vysotsk to Sweden and Finland. Sometimes directly, but more recently, via a more intricate arrangement where the gas is first transhipped to other vessels at sea. Gasum's customers in Sweden include gas stations, ferries and petroleum companies.
A shipload of Russian gas from Vysotsk is estimated to be worth over a quarter of a billion Swedish krona when it leaves Russia, which is equivalent to almost four advanced Kalibr missiles or about 80 of the older Tochka-U missiles, weapons systems used by Russia in Ukraine.
"I am extremely grateful for all the support that Sweden has given to Ukraine in these dark times for my country. At the same time, it is incomprehensible to me how Sweden's government can support Ukraine with one hand and with the other finance Putin's invasion and the abuse of the Ukrainian people by allowing these imports of Russian fossil gas to continue", says Nadia Shevchenko, Ukrainian journalist and environmental expert who is on board the Greenpeace sailing vessel Witness in Nynäshamn.

This peace protest is, like all Greenpeace actions, a safe and peaceful protest carried out with the highest priority on the safety of activists, personnel and equipment in the area. All activists are experienced climbers and use ATEX-rated equipment for work in dangerous environments. The activists also have measuring equipment to ensure that they are not exposed to any dangerous substances when they are in the area.

Photo and video for media here:

Contacts:
Karolina Carlsson, Campaign leader at Greenpeace Nordic, in Nynäshamn, +46 (0)73-986 50 96
Ludvig Tillman, press officer, in Nynäshaman, +46 (0)70 271 64 37
Markus Mattisson, press officer, +46 (0)70 397 66 72
Interviews with activists participating in the action can be arranged.