First U.S. Foodservice Company Bans Single-Use Plastic Straws in 33 States!
by Sybil Bullock
June 1, 2018
Bon Appétit is leading the foodservice industry in a race to the top by showing the world that it's time to #BreakFreeFromPlastic!
Yesterday, Bon Appétit Management Company made history. A subsidiary of Compass Group USA, the largest foodservice management company in the U.S., Bon Appétit announced that it will ban plastic straws and stirrers in its 1,000 cafes and restaurants by September 2019.
V. proud to be first food service company to #BreakFreeFromPlastic straws https://t.co/6lKO7LsTCz

— Bon Appétit Mgt Co. (@bamco) May 31, 2018
Bon Appétit is the first foodservice company or major restaurant company in the U.S. to make this commitment. This marks a huge milestone for the U.S. foodservice industry, and this is not the first time Bon Appétit has set the bar for other foodservice companies in the U.S. You may recall that in 2014 Bon Appétit was the first foodservice company to commit to more sustainable tuna (its parent company Compass Group USA soon followed suit later that year). Companies like Compass Group USA are customers of the world's largest broadline distributor, Sysco, so when big companies start demanding alternatives to single-use plastic from Sysco, the entire global foodservice industry has an opportunity to break free from plastic!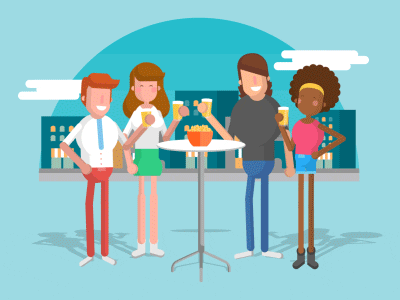 A straw-free cheers to that! 
Here's what Greenpeace USA Oceans Campaigner Kate Melges had to say:
"Bon Appétit's move to eliminate single-use plastic straws from the 1000+ cafes it operates sends a resounding signal to U.S. companies that the time for change is upon us. Its policy shows strong leadership within the foodservice sector, and most importantly proves to all companies that rely on throwaway plastics that it can be done. We can no longer rely on half measures to tackle the plastic pollution crisis. Companies must reduce their plastic footprints to save our communities, waterways, and oceans. This decision provides a tremendous foundation for Bon Appétit to build upon."
Yes, it's just straws and stirrers–for now. But it is an excellent move in the right direction, and we are excited to see how Bon Appétit is building on this to become committed to doing more on plastics.
At Greenpeace, we see straws as a great entry point for these companies to accelerate action on single-use plastics across the board. Steps like this are necessary for momentum and building upon a broader cultural shift to end single-use disposable items in favor of reusable goods in a more circular economy.
We're already seeing big changes happen as other foodservice companies are beginning to shift towards plastic-free practices. Delaware North, a large hospitality and foodservice company, recently announced a new initiative to curb excess plastic waste by offering drinking straws on a request-only basis. This will go into effect in over 200 dining locations in 23 airports and travel hubs across the United States.
ICYMI: Delaware North has announced a commitment to reduce plastic waste by scaling back its use of straws at the company's airport operations and travel hubs: https://t.co/ym7XyZ99Zt #EarthDay #EarthDay2018 (via @BfloBizFirst) pic.twitter.com/7y29wfjKHj

— Delaware North (@delawarenorth) April 22, 2018
Kevin Kelly, president of Delaware North's travel business, noted that "Plastic waste is being addressed at many levels, including with legislation in several states and municipalities, so we want to be part of that movement and find solutions in our operations to help cut back on waste and improve our environment." Yes! Let's see who can race to the top!
Around the world, various cities, countries and regions are banning or proposing bans on different single-use plastics like Morocco's plastic bag ban, Seattle's straw ban, and Vancouver's proposed coffee cup and styrofoam container ban. These headlines are a great sign of momentum building toward a plastic-free future, but we must continue to see more companies delivering on these promises. Corporations have major stakes in the single-use plastics market, and they must be part of the change to move toward safe and sustainable solutions. So thank you Bon Appétit, and thank you Delaware North. Which companies will be next?