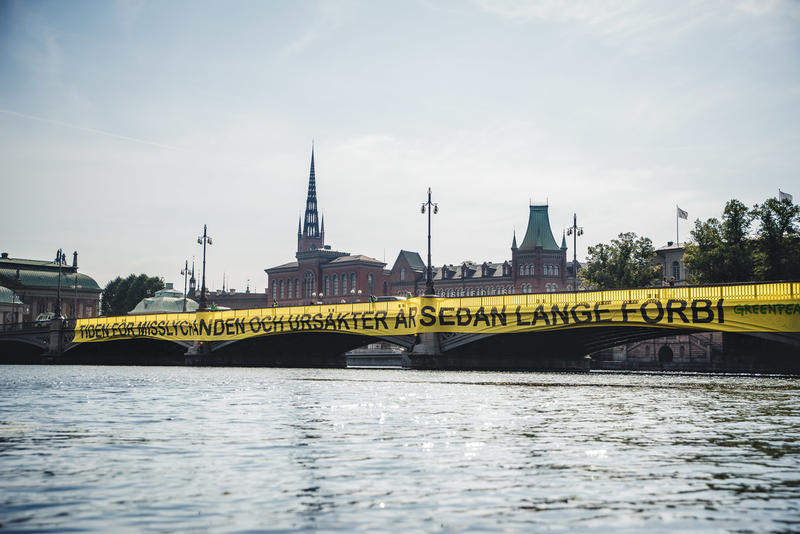 Today, the Swedish Government presented the framework for its historic first Swedish Climate Action Plan. The plan consists of 132 proposals to put Sweden on track to reach its climate goals and is agreed upon by the Government and the Liberals and Center party. The Climate Action Plan in its entirety will be made available later in the week.

Among the suggestions there are notables:
All relevant legislation is to be audited in relation to the climate political framework.
Societal goals is to be reformulated so that they are on par with the climate goals (where needed)
All climate consequences for political initiatives are to be analyzed
On Friday, the Government also announced that from 2022, it will stop giving export credits to projects in fossil fuel prospecting and extraction. This means that the Swedish state no longer will guarantee the financing for such projects.
Greenpeace Sweden welcomes the Climate Action Plan and is now waiting to see the plan in its entirety and how the Government will realize its ambitions,.
– The Climate Action Plan contains several key elements for a societal shift towards policy and an economy on par with our climate goals, its main issue is that many of these suggestions should have already been enacted. We are now waiting to see how the plan in its entirety and how the Government plans to live up to these ambitions. We live on credit and its a growing debt that the government, with the action plan now decided on, should make a priority to repay, says Mr. Rolf Lindahl, climate and energy campaigner at Greenpeace Sweden
– While many of the suggestions in the Climate Action Plan are needed, we are now eager to see what means will be attached to each suggestion, not least the finance sector, which is a sector that works adversely with our national and international commitments to emissions reductions, continuing to flood the fossil fuel industry with billions upon billions. The government should take the opportunity to put the foot down on these types of investments, say Rolf Lindahl
For full press release in Swedish from a joint environmental movement, please click this link:
For the Government's Climate Action Plan, follow this link: https://www.regeringen.se/